New book: Murder that wasn't
George Gwaze made legal history in NZ when he was tried for murder a second time on the same evidence, after the Supreme Court ruled that double jeopardy does not apply until all appeals have been exhausted. Both juries acquitted him.
A DSAC doctor wrongly concluded that Gwaze's niece Charlene was analy raped then suffocated, and this misguided medical opinion coloured the subsequent police investigation and media reporting.
A new book by Felicity Goodyear-Smith titled 'Murder that wasn't – the case of George Gwaze' outlines the medical evidence that Charlene died of the HIV infection which killed her mother.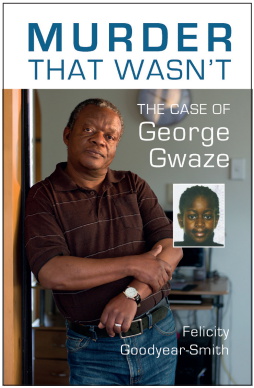 "This is a story that, if you made it up, would be hard to believe. It's an unusual story with a lot of complexity," she said. "What happened to this family caused huge distress that was essentially preventable.

"There was a misperception that she died from rape and murder rather than natural causes. The Gwaze family's story illustrates how a fixed mindset can emerge at the outset of an investigation and be perpetuated every step along the way.

"The consequences for George Gwaze and his family were devastating."
An interview with Gwaze was published in the Herald this weekend: Acquitted uncle tells his story
He told the Herald on Sunday he hoped the book, Murder That Wasn't, would be the final word surrounding Charlene's tragic death.

"The book is going to be telling the whole truth and nothing but the truth," he said.
Invitation to book launch
MENZ readers are invited to attend the book launch at the Auckland University Bookshop at 6pm, Thursday 19th February. Please download the invitation and RSPV to assist with catering. [395 KB PDF]
Order Murder that Wasn't here: